Woodturner: Barbara Dill
If you understand the art of woodturning, you know that what Barbara Dill does is mind-boggling. A woodturner for 30 years, Barbara has mastered — and continues to experiment in — multi-axis spindle turning. The work is created by spinning shapes on a lathe using more than one axis. "Even though turned work is symmetrical," says Barbara, "I was always drawn to asymmetrical objects that were turned on the lathe." The results are beautiful pieces that defy explanation. Take, for instance, her work with holly:
This piece wasn't created by spinning the wood on just one axis. If so, it would look symmetrical. To achieve an asymmetrical outcome is a matter of both art and mathematics. In fact, it's so complex that Barbara taught and wrote about this aspect of turning for many years. In the summer of 2018, she published a book about it, available on Amazon. So few people understand how to solve the puzzle of multiple axes, that Barbara developed an instant fan base. "Since 2006, it's been my primary focus," reflects Barbara on her obsession, which caused her to wake up mornings with spindle solutions dancing in her head. "This work is calming, and exciting and is instantly gratifying."
Spalted holly by Barbara Dill. This is a single piece of wood she turned on 2 axes.
"I've always been fascinated by goblets"
Going from traditional woodturning to multi-axis turning is like dancing the Paso Doble with 2 steps over 8 counts, switching to Salsa with 6 steps over 8 counts — and all the while, changing the genre of music you're dancing to.
Two key challenges face the multi-turner: 1) the dilemma of outcome and 2) mastering use of the cutting tool.
THE DILEMMA OF OUTCOME. Imagine a piece of wood spinning on a lathe on one axis: it's turning 360 degrees and symmetrical. Next, imagine changing that axis. Now you've not only lost your original symmetry, you have no place to go, no definite end point. There is no known outcome. Barbara's book and teachings seek to bring answers to the confusion. And she's found systems through mathematical calculations that lay out definitive outcomes. She journals "axis placement, profile, orientation of the new axis to the center axis, and so on." The work has involved untold hours of experimentation.
MASTERING USE OF THE CUTTING TOOL. There's an execution issue when you change the axis, which is: How do you hold the cutting tool when an object on the lathe is on multiple axes? "When you're on a different axis, the tool stays in the same place and sometimes it hits wood and sometimes it hits air. You have to learn how to hold the tool steady enough to get good cuts," Barbara explains. "I've spent many hours on the lathe just to learn to get better tool control."
This candlestick represents a traditional turn on the lathe - it's symmetrical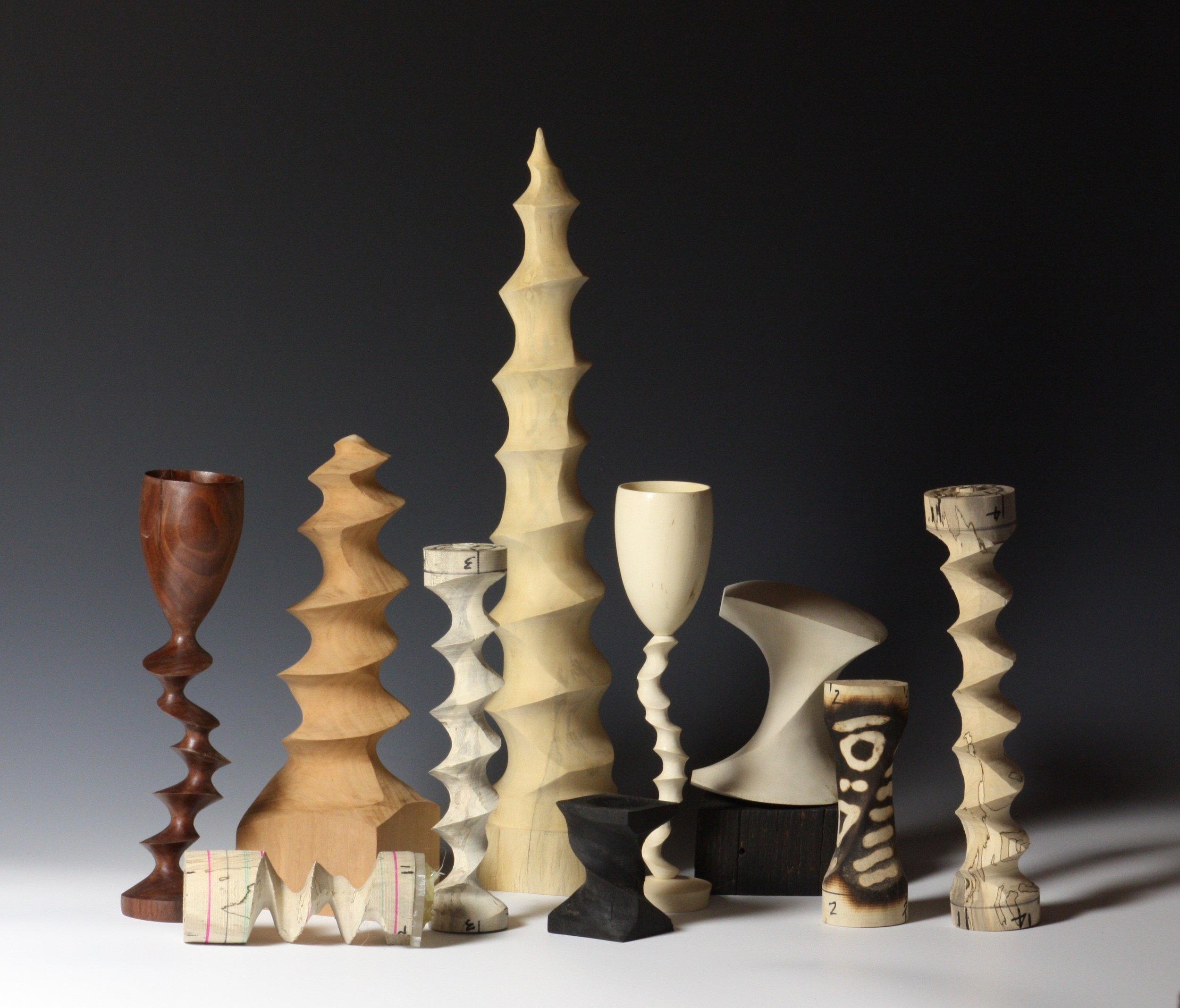 More of Barbara's multi-axis work
During Barbara's 21-year career as a nurse, she discovered the joys of photography. And her photography skills pair well with the images she's published of her work. She's also a musician with a passion for social justice and folk music of the 60's and 70's. In her second act, Barbara immersed herself in woodturning at the Arrowmont School of Arts and Crafts in Tennessee with Michael Hosaluk in 1990. She's remained unflinchingly devoted to the craft, and enjoys the rewards of taking woodturning to new levels. She also loves to share her knowledge. "I'm excited to see how other interested turners have and will use this conceptual model to find their own voice in this fascinating area of woodturning." And her work has certainly brought her name to the forefront of the woodturning community. Just Google multi-axis turning and see who shows up! www.barbaradill.com